Pineapples (Ananas comosus) are perennial fruit-bearing tropical plants originating from South America, and this fruit is commonly grown in warmer countries. There is no doubt that you will bounce on to at least one occasion of sighting this delicious fruit on the island, sliced beautifully or prepared in a variety of tempting forms to be enjoyed.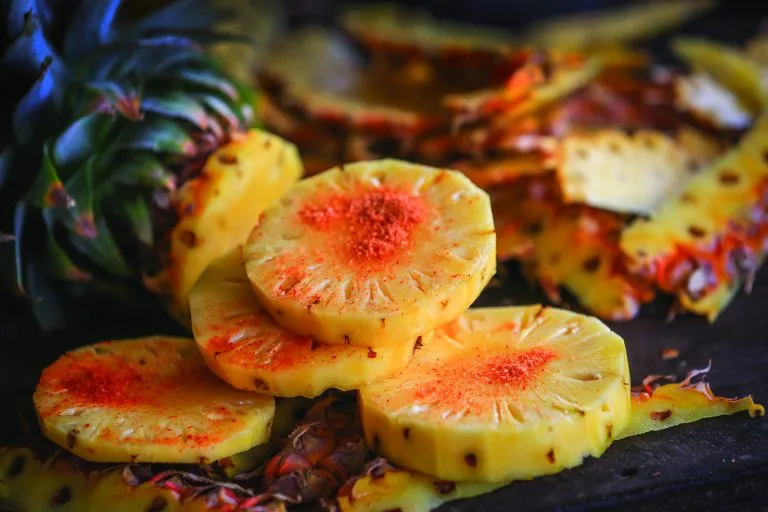 Photography Menaka Aravinda.
Commonly called 'Annasi' in Sri Lanka, pineapples have a thornier outer skin with a heaven of the aromatic wonder of sweetness inside, making it an all-time favorite for the tropical islanders.
The discovery of the fruit has a fantastic connection to explorers ñ Christopher Columbus, Gonzalo Fern·ndez de Oviedo y ValdÈs, and Sir Walter Raleigh found this fruit used for food and wine-making in the West Indies. Later, it was grown in several tropical areas, including Sri Lanka. It was widely termed as pina by the Spanish-speaking people while southern Asia and East Indes termed it Nanas, and the resemblance of the fruit to a pinecone may have inspired the name to be derived as pineapple.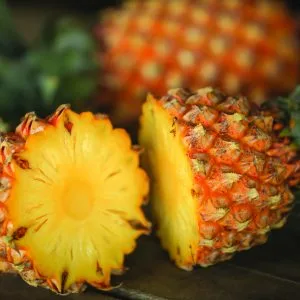 The islandís wide variation in precipitation, topography, and soil makes it a great choice to grow various crops; it is no wonder that the pineapple cultivation is mainly grown in Gampaha, Puttalam, and Kurunegala districts. There are several varieties of pineapple globally, and the most commonly found ones across the island are Mauritius, Cayenne, Singapore Spanish, and the wal (wild) annasi.
If you happen to stop by a pineapple field, you might notice rows and rows of spiky fruits stretching out, and at the centers, the tender fruits are settled in bushes that spring from the ground. Young pineapples stem from the flower as a red bulb. Gradually they grow, and the color turns green. Ripe pineapples are ready to be harvested by the end of four and a half months. The cultivations grown in higher elevations yield more acidic fruits.
These juicy succulents are commonly found along the makeshift roadside stalls brimming in bright shades of orange and green. Rows of pineapples in varying sizes are tied to ropes with price tags for each variety and hung or piled up in bunches to attract passersby. Enjoying a ride along the countryside, you are sure to be bound with plenty of stalls with aromatic-filled fruits You might also notice fruit vendors carrying a basketful of this golden beauty on their heads as they walk along the roads or display a bounty of fruits on their carts in front of parks and other locale attractions.
A ripe fruit will have bright yellow skin with spike-like eyes. After removing the orange-green spiky skin, thereís definitely a treat, which leaves one to enjoy a juicy slice. Peeling pineapple is also an art. The fruit can be eaten ripe or prepared in various forms and consumed. From pineapple-based sweets and cakes to pizza toppings, salads, pickles, and glazing pineapple chutneys, the list goes on.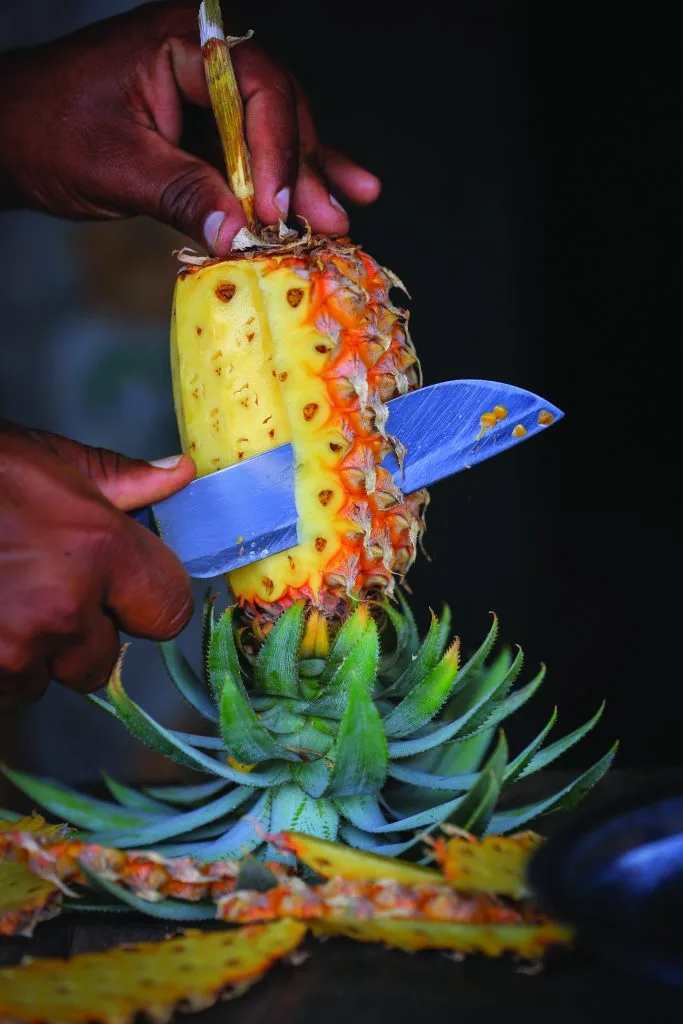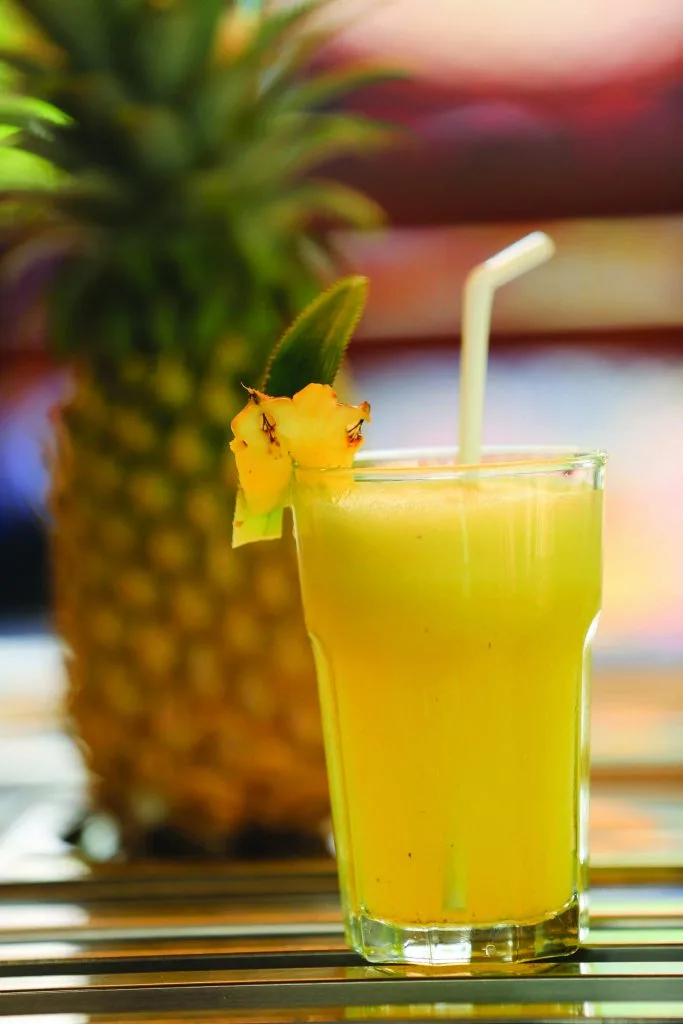 In Sri Lanka, some exciting ways to enjoy a slice of this tangy fruit are paired with a delicious biryani or fried rice & curry. Another option is to cook the cubes in coconut milk to prepare a curry. It is also added as a tenderizer in fish curries. Pineapple pulp is used as dessert toppings, jams, and pineapple-based confectioneries. It is a favorite for Sri Lankans due to its distinctive piquant taste.
On a sunny day, stop by at one of the roadside stalls to savor a bagful of these golden yellow succulents sliced into rings mixed with a dash of chili powder and salt.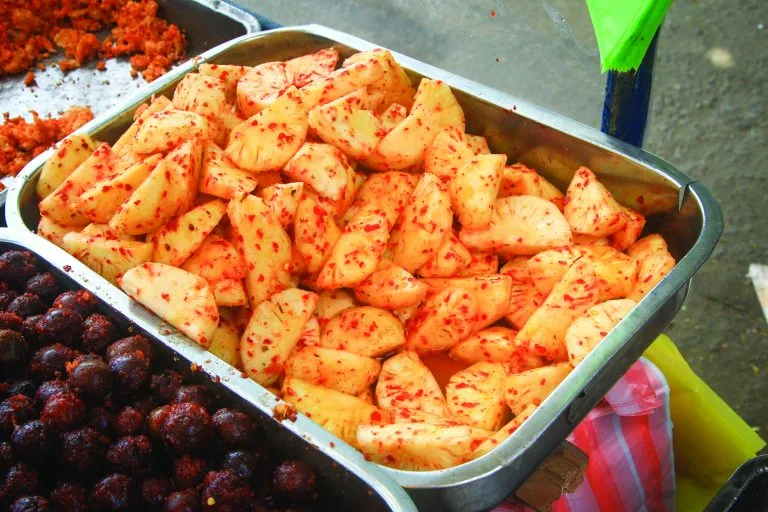 Try out the fiery achcharu, with a burst of tangy flavors that melt in your mouth as you enjoy a handful of them. Or quench a glassful of Pineapple smoothie, juice, or Pina colada that will awaken your senses. Keep in mind that overindulgence can lead to discomfort due to the fruitís acidic nature.
Rich in vitamin C, minerals, and fiber, pineapples have many health benefits and are a source of Bromelain, used as a food supplement due to its phytomedical properties. Munching on a few slices of tangy pineapples aids digestion after a heavy meal.
There is no surprise that these chunky fruits are loved by everyone across the world, and hence it is packaged as pineapple rings, pineapple tidbits, and pineapple cuts and exported to several countries. Even pineapple waste offers a broad range of great opportunities to recover and produce high-value products.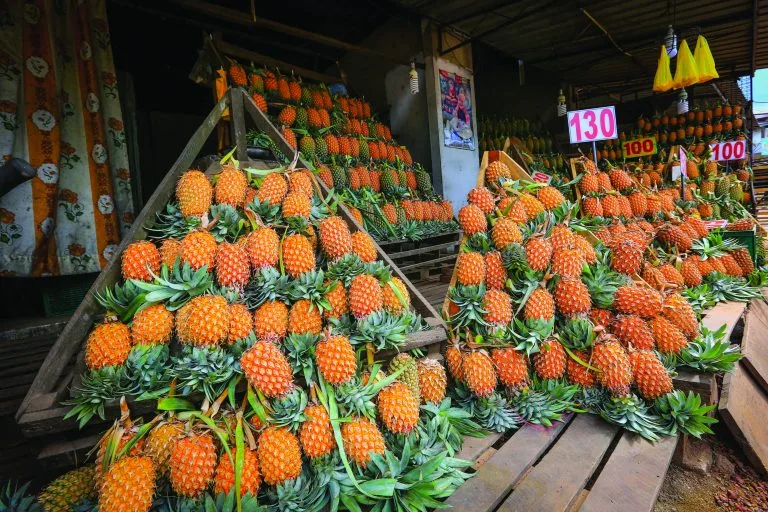 Apart from its excellent flavor, this fruit has gained a connection to the islandís history. The annasi flower has been immortalized in a traditional flower motif that became popular during the era of Kotte (1415-1514) and Kandyan (1514-1815).
Today, pineapple is used for various purposes, including manufacturing incense sticks, cosmetics, food flavoring, and more.
Enjoy this tropical delicacy packed with nutrients in your favorite form. The fruity fragrance and tangy flavors make it an all-time choice for the Lankans.