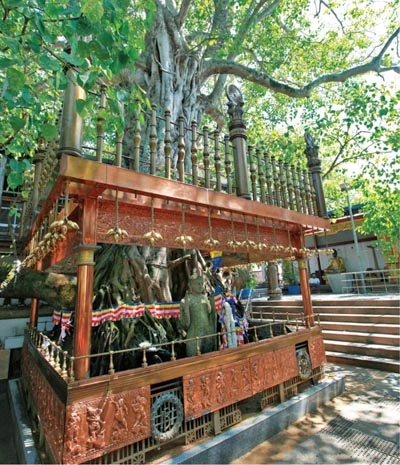 A temple is a Buddhist place of worship, a place where we find solace from the world and seek spiritual fulfillment. Gangaramaya Temple in Colombo is much more, while spiritual guidance is provided, it also gives hopes to those who feel they do not have a future, skills and training, a place to live… a place of hope irrespective of race, religion, caste or creed.
A temple is usually a reflection of its Chief Incumbent…
Then Gangaramya, is a temple, a life, a legacy…
Words Udeshi Amarasinghe Photographs Indika De Silva
Continuing the traditions of Buddhism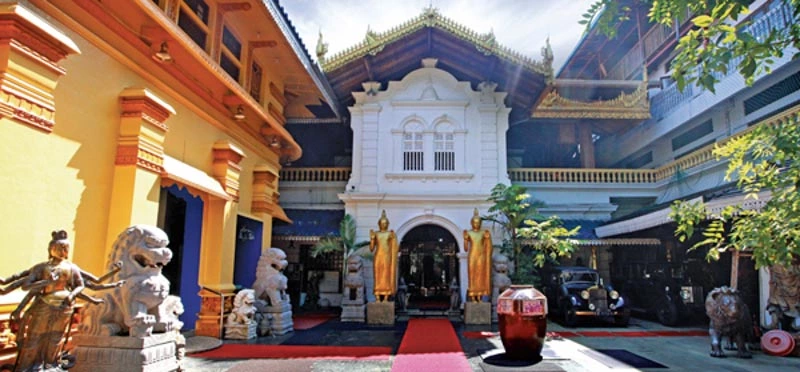 The Gangaramaya Temple has always been at the forefront of preserving and safeguarding religious and cultural values of the country. This has been so, from its inception where successive chief incumbents hailing from the lineage of Hikkaduwe Sri Sumangala Thero have ensured that the Temple is an icon of the preservation of Sri Lankan culture and religion. This has never been as evident as the present with the service rendered by the Temple under the guidance of Ven Galaboda Gnanissara Thero, who is fondly known as Podi Hamuduruwo.
The Buddha instructed monks to go on pindapatha or alms gathering daily. This was to instill humility in the monks as they came from various backgrounds. The Alms received were collected in a patharaya (a bowl made of alloyed metal only used by monks). However with the advent of time, it was very rare to see temple priests in villages and cities engaging in this practice. Another reason for this was the lack of good quality paththara as the metal alloy would rust with time due to the salt and acidity of the food. As the practice of pindapatha became a thing of the past the relationship between the Sangha and the laity too became more distant.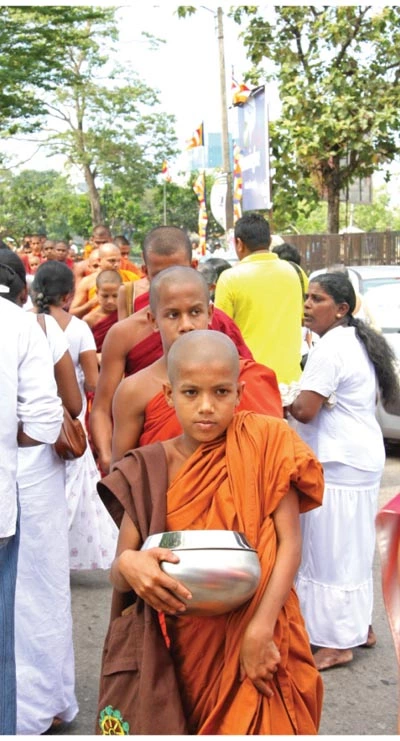 To revive this age-old tradition, the Gangaramaya Temple took the initiative of bringing down quality stainless steel paththara that does not corrode with time and distributed them among the Sangha community. While 20,000 paththara have been distributed to priests from around the country, a further 10,000 will be presented soon. It is indeed a humbling sight to see the long lines of the saffron-robed Sangha walking along the road with a paththara in their hands…
In the past, it was a great honour for a family to have one of their children ordained as a priest. In the Nikaya Sangrahaya, which was written during the Dambadeniya Era, it is mentioned that this deed alone will be enough for the whole family to attain Nirvana. However, today many families are reluctant to give their children to the Sasana (the Buddhist order), and even if they are ordained there are challenges in educating and taking care of them. Only piriven (monastic) education is available for novice monks.
To address this issue, Gangaramaya Temple has launched a programme for the ordained young children. It is similar to a foster family system, where a family or an individual will bear the responsibility of providing monthly financial aid for education, medicine and other necessities. This results in the development of a strong bond between the monk and the benefactor, where the monk too has a sense of responsibility to be disciplined.The monk is supported till he completes his entire education. Today not everyone can give a child to the Sasana but they can contribute to the upbringing of a Samanera (novice monk).
Before colonial rule, the education system of the country was centred around the temple. Everyone was able to read and write Pali. The British stopped temple education and only the Vidyodaya and Vidyalankara Piriven were left. These too were later transformed into universities. Everyone became a part of the mainstream education system. But as a member of the Maha Sangha, one has to have a sound knowledge of Pali and Sanskrit languages in order to understand the Thripitaka. The best academic programme for monks are the exams conducted by Pracheena Bhasha Upakari Samagama. While this programme was conducted in the past it was relaunched by the temple together with the Kalutara Temple and with the objective of promoting the Pracheena education tradition, Gangaramaya Temple provides scholarships as well.
Sunday School, which was initiated by Ven Hikkaduwe Sri Sumangala Thero at the Gangaramaya is carried out to this date. While the curriculum for Sunday Schools includes Pali and Buddhism the Temple strives to inculcate moral values and nurture them in an environment associated with Buddhist values and culture. The Sunday School is conducted in Sinhala medium, so that priests themselves can teach the students. English medium too is available for those who are not able to understand Sinhala.
The spirituality and religious legacy of the Temple was further enhanced with the arrival of the Sacred Hair Relics of Lord Buddha, which was bestowed by a temple in Chittagong, Bangladesh. It was first brought down in 2007 and also in 2011 in commeroration of the 2600th Sambuddatva Jayanthi celebrations. The hope is to place the Sacred Hair Relic in a special room. In this way the Gangaramaya Temple continues to instill a sense of spirituality in the people of this country.

Fulfilling Needs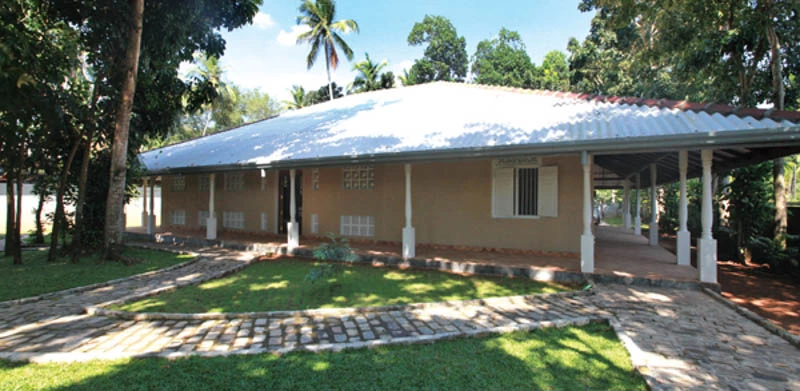 With the end of the conflict, people are travelling around the country. As such many visitors come to Colombo as well, but they are unable to find suitable lodging. Furthermore, the young who come to the city seeking employment too have difficulties finding good accommodation. In order to cater to this need the Gangaramaya Temple is building a rest house in Colombo city. As in all work that the Temple does, this facility is available to everyone irrespective of religion, race, caste or creed.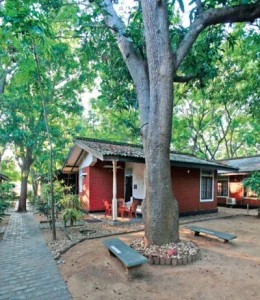 Land, incomplete projects and other assets are usually donated to the Temple by various devotees. One such donation is a house and land in Borella by the Niriella family. This house is being renovated as a place of lodging for members of the clergy who come from afar for medical treatment in Colombo. Again, the denomination of the individual does not matter. Usually once the necessary medication is received they do not return to the clinics, as a result they fall ill again. For their convenience Ayurvedic as well as Western medicine specialists provide their time free of charge for the members of Clergy who come to this place.
TOAS IN ALL WORK THAT THE TEMPLE DOES, THIS FACILITY IS AVAILABLE TO EVERYONE IRRESPECTIVE OF RELIGION, RACE, CASTE OR CREED
Another such land in Kalalgoda has been utilised to build a meditation centre, which will provide meditation programmes including accommodation. This facility will conduct its first programme on December 14. The remaining area of the land will be used to build a veterinary clinic and a home for abandoned domesticated animals such as dogs and cats.
Furthermore a land in Balapitiya has been designated for a hermitage for the clergy and a meditation centre is to be established in Mahagalwewa, Sooriyawewa. With a cave complex this land has historically been a place of meditation for monks. With Hambantota rapidly becoming a popular area, such centres for spiritual development will be necessary.
Children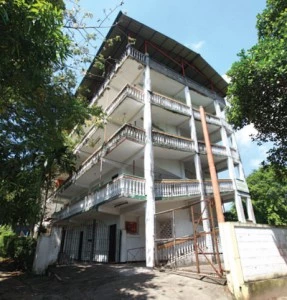 The Suhada Nivasa, the orphanage in Madiwela, Kotte provides a safe haven to differently-abled children. It is their home as well as a place learning. This place truly reflects the philosophy of the Gangaramaya Temple. It a safe space where the residents' creativity and dreams are enhanced. They are treated as equals.
In Kataragama too, a home for both the young and the old has provided safety and warmth to the residents. The Gangaramaya Temple hopes to establish a centre for children who are suffering from Autism. This was identified as a need because even though these children are looked after by their parents when they are small, as they grow older society does not accept them. As such the Temple has taken the initiative to provide them the support that they require.

Agriculture and Employment
The Gangaramaya Temple has always recognised the importance of ensuring the productive use of unutilised land, as such properties in Okkampitiya, Weerakatiya, Galaha, Akuressa, Kurunegala, Ingirya and Ambilipitiya have been planted with crops. Agricultural technology has been utilised to determine what type of crops can be planted in these areas. This is so that the people in those areas will get the maximum benefit, where a good market is provided as well. These estates provide employment to a large number of people in those respective areas. At times the land is assigned to the farmers where the harvests of their cultivation is bought by the Temple. The aim of these projects is to uplift the lives of these families. The project in Sooriyawewa has been very successful and approximately 412 families of farmers have benefitted in the area. New technological practices such as the use of drip irrigation and sprinkler irrigation systems as well as training on using appropriate water management methods have also been provided to the farmers.
Farmers are encouraged to use organic fertilizer while being trained on the proper use of chemical fertilizer. They are also educated on home gardening techniques as well as the appropriate plant varieties for this type of gardening. While encouraging the growth of food crops the Temple also encourages farmers to seek alternative sources of income through the cultivation of crops that can be used for cosmetics, shampoos and soaps. A land in Polonnaruwa has been utilised for such a purpose. The farmers benefit because their harvest is purchased directly for a good price. Educational programmes are provided on these types of new business ventures.
Na Sevana project in Hambantota is nearing completion. Here, training programmes are provided on the operation of heavy vehicles and machinery. An agro-farm and herbal garden have been developed and associated training programmes will be provided on the same. By next year, Na Sevan will be developed to deliver a more effective service to the region.
The Great Valley Estate in Galaha, which had been donated to the Gangaramaya Temple is now undergoing a redevelopment programme. The fertility of the soil has been enhanced by the addition of Dolomite. Tea has been planted using organic methods while new crops such as coffee, pepper, cloves and avocado have been introduced as well. Through this project employment opportunities will be provided to the people in the area.
Just as the Akuressa Estate has been a beacon of hope to the people in the Southern area, the Galaha Estate too will soon become a source of employment and livelihood in the Central region.

Vocational Training

The Jinaratana Vocational Training Centre was estabilshed to address the issues faced by the youth. Established in the 1970s, training programmes in masonry, carpentry, welding, mechanics and other such subjects were provided to equip the youth with skills that would place them in a good position when seeking employment. Today the training programmes have expanded to include electronics, computer and mechanics to cater to the expanding needs of the new age. A new programme on the breeding of ornamental fish was initiated where the course duration is eight days and will be conducted in Ambalangoda. During this programme students will be given practical training on how to breed ornamental fish where they will learn every step from breeding to marketing and export.
The vocational training centre of the Gangaramaya Temple was established at a time when there was much unrest among the youth of this country. It provided the avenue for them to learn new skills, and gave them hope where they too had a future.
A person's true character is seen not in his words but by his actions…
The amount of work and the service rendered by the Gangaramaya Temple can go on for pages and pages. It is only the tip of the iceberg that we have touched. Speaking to Podi Hamuduruwo one realises how simple life is, that action is more important than words.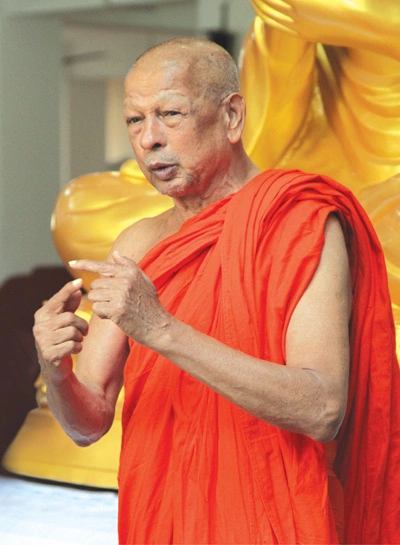 "During my childhood vocational training was not a necessity. That is because usually the children would follow in their parents' footsteps. Sri Lanka had skilled masons, carpenters, blacksmiths and jewellers, people were able to secure employment according to their own skills"
"Sri Lanka as a culture always ensured that our elders, children and differently-abled were looked after. That is because as a family oriented society, we did not need domestic helpers, we helped each other, but today that is not the case," explained Podi Hamuduruwo as to why the establishment of homes for the elders, children and differently-abled were necessary. Sri Lanka has become engrossed in individualistic lifestyles as such the people do not realise that they are slowly letting go of values that are inherent to our culture and country.
"We initiated projects out of kindness and sympathy towards people, depending on the requirements at the time…We didn't do this because others were doing it, nor did we do it to earn money or fame, during our lifetime we have to do something for others "
"During my childhood vocational training was not a necessity. That is because usually the children would follow in their parents' footsteps. Sri Lanka had skilled masons, carpenters, blacksmiths and jewellers, people were able to secure employment according to their own skills," furthermore, "each household was self-sufficient where they would only buy salt from outside," elaborated Podi Hamuduruwo on the changing world that has created greater demand in relation to employment and supply of food. With the market economy, and the advent of consumerism the need for money and also the discrepancy in wages were felt by the people. It is because of this that people started to protest and both those who have and do not have any skills or degrees with no employment became agitated and started to protest. It is because of this need that Podi Hamuduruwo decided to start the vocational training institute.
"The Gangaramya Temple actually had vocational training as early as 1890, though it was not by that name. It was when J Holmes Pollock donated a printing press. We produced forms, printed books, we bound books and as such a vocation was developed in the Temple. In time we too transformed and the curriculum at the training institute was expanded knowingly or unknowingly because we had to meet the needs of the people," said the Thero.
"When the population increases and the demands expand, new things were created. People become more alone and isolated, then when they grow old there is no one to look after them. As such we had to build homes for the elders. Then, there was no one to look after the differently-abled, then we had to build homes for them too. We initiated projects out of kindness and sympathy towards people, depending on the requirements at the time," explained Podi Hamuduruwo. "We didn't do this because others were doing it, nor did we do it to earn money or fame, during our lifetime we have to do something for others," the Thero said giving us food for thought.
"The Clergy in temples, kovils, mosques and churches do not work to gain financial benefits. Our sole aim and objective is to help people irrespective of ethnic or racial differences. We don't care about religious differences. That is the driving force of our Temple. As Lord Buddha has preached, relationships between the Sangha and the laity are built on trust," stressed Podi Hamuduruwo. And, for anyone who steps into Gangaramaya Temple, this is very much apparent. People of all walks of life find solace and peace, a safe haven here. From its inception Gangaramaya Temple has had devotees from all religions. If Sri Lanka is diverse and rich with culture, then it is truly reflected in this Temple protected by the wisdom of Buddhism.
"I too have international exposure, but I have never been obsessed with materialistic things. I lead a simple life. I carry out my service while living a simple life. All of this is done with the sole intention of helping people and all living beings…" Simple words of a great Thero who lives by example… a charismatic Thero who celebrates his birthday this month.