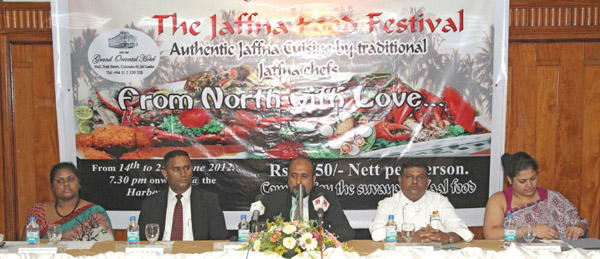 Grand Oriental Hotel, presented an array of Jaffna Cuisine for all Jaffna food lovers in June. The menu featured well-known dishes. Chef Raazan, known for his knowledge in Jaffna Cuisine, prepared all 'arusuvai' traditional Jaffna dishes infused with aromatic spices.
The festival offered an insight into 'Yarlpana Samayal' (Jaffna cooked food) specially for those who have not had the opportunity to get the feel of this spicy cultural food.
Among the array of dishes of the North, visitors had the opportunity to enjoy various types of dosa, including onion dosa, paper dosa, masala dosa and ghee dosa, along with typical northern dinner pittu. Exotic northern seafood curries made out of specially made traditional Jaffna curry powder, was the attraction of the event.
Jaffna food lovers were also able to enjoy the tempting 'odial kool', special Jaffna Ice Cream, Vadai, Kesari, Jaffna crab curry, chicken kolambu and many more regional eats at the Authentic Jaffna Food Festival.
[nggallery id=333]