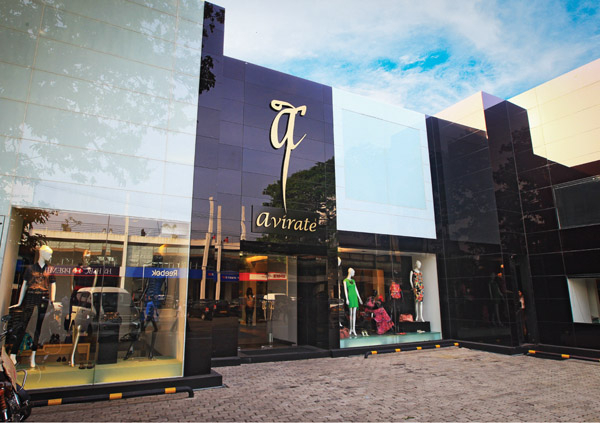 Its glossy black and white exterior with the characteristic golden lettering presents a chic, yet understated façade. The windows afford a glance of the elegance within. Aviraté, from the first impression, radiates a subtle, stylish sensuality…
Words Haseena Razak Photographs Menaka Aravinda
Opened in December 2010, Aviraté has rapidly formed an upscale clientele that is drawn to the brand's exclusivity, trendsetting styles and impeccable workmanship. True to its name, meaning sensuality in Sanskrit, each piece at the store, whether it is clothing, shoes, bags or accessories, seeks to enhance the sensuality of the wearer. Accordingly, flowing evening gowns, figure-hugging 
jeggings, fleecy pashminas, peep-toe pumps with satiny back-straps and dangling earrings that graze the nape are just a few of the articles that indulge the senses and make women feel their best.
The brand's vision has been to combine elements of Sri Lanka with international excellence. To that end, Aviraté has used the Sinhalese alphabet "අ", equivalent to 'a' in English, as its brand logo. The golden stylised "අ" is present on the façade of the store and tiny versions of it dangle from every item available at the store, representing the exclusivity, singularity and quality of the brand.
The highlight of the store is perhaps the Collection Room that displays evening gowns fit for the most lavish events. Here, customers will find sheer, silky, glowing fabrics turned into creations that will satisfy the most discerning fashionista.
Aviraté's range is capable of stocking the entire wardrobe of a fashion conscious woman. Several of the dresses are ideal for casual-wear but can be made to look more formal and suitable for work by slipping on a jacket or shrug, a collection of which is available at Aviraté. Bright colours and captivating prints are also a trademark of Aviraté, and while these dresses make for radiant casual wear, coupled with accessories to match, they are also ideal for a relaxed evening out. Tops, tights, jeans, skirts and shawls also feature on their shelves. In addition, the brand presents a line of lingerie that includes chemises and babydolls made out of sensual fabrics like lace and satin.
In order to offer their clientele the latest cuts and styles, Aviraté employs a dynamic design team, the members of which are located in the United States, the United Kingdom and Sri Lanka. Every week at least ten to fifteen new designs are added to the store, giving customers seemingly endless choices.
While all the garments are manufactured in Sri Lanka, the shoes, bags and accessories are imported from the United Kingdom and Hong Kong. The experience of sensuality extends to these products too, with customers able to choose from a range of pumps, stilettos, wedge heels, sandals and flats. The shoes are made exclusively for Aviraté in the United Kingdom.
Whether the requirement is petite, extra large or any size in between, Aviraté is able to indulge shoppers, as their range extends from US size 0 to 18. If clients are unable to find their size, but have grown too attached to an outfit to leave without it, a team of skillful seamstresses are at hand to make alterations and ensure a perfect fit.
The changing rooms are large, well-lit, have expansive mirrors and plush couches for maximum comfort. Staff have been trained to stay with clients and even guide them with their shopping.
The brand takes customer satisfaction to such lengths that the Aviraté Café was opened up especially for husbands and children, so that the ladies are left at leisure to shop at their own pace. After a happy bout of shopping, the ladies too can replenish themselves at the café.
In addition to its flagship store, the brand also has outlets at 
Cinnamon Lakeside Colombo, Cotton Collection, Glitz and Kandy City Centre. Internationally, the brand is present in Bangalore, India. While plans are underway to open up more stores locally and overseas, Aviraté remains committed to providing personalised services, uncompromising quality, the latest fashions and delicate sensuality to every customer who walks through its doors.
Aviraté Café
30, Maitland Crescent, Colombo 7
Tel: (+94 11) 438 0781
Fax: (+94 11) 464 1867
aviratefashion.com
[nggallery id=254]