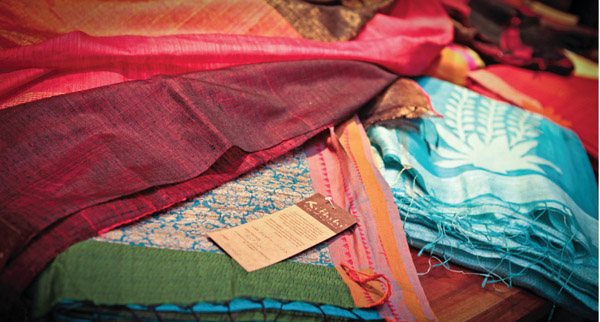 Rithihi featured a special collection of sarees from the Bai Lou Studio, titled 'Free Flying' and put together exclusively for Rithihi. This is a range of sarees in luxurious soft colours and soft fabrics – all featuring the signature Bai Lou weave.
These sarees are hand woven using traditional Bengali weaving techniques, experiments with colour and texture, turning out sarees perfect for the 'contemporary woman'.
Bai Lou sarees are well known for their trademark weave, consisting of a blend of techniques and vibrant colours.
The collection features a set of sarees woven to replicate the royal looms of the Bengali aristocracy – the Zamindars. This heirloom collection will showcase exquisite sarees, marrying ancient forms of weaving with new, contemporary fashion.
"Bai Lou" is derived from the store's name 'Bailoom'. Its founder, Bappaditya Biswas, initially started off the business as a small outlet selling scarves and wraps. The store has now grown into one with a steady, elusive clientele – constantly making the headlines with the likes of Bollywood actors and other top names wearing the exquisite sarees.
[nggallery id=452]