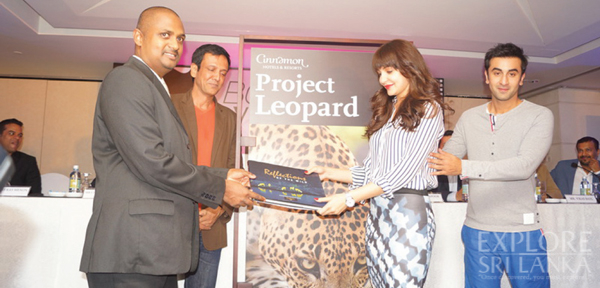 Bollywood super stars who are currently in the Island as part of the mega movie 'Bombay Velvet' joined hands with 'Project Leopard' of Cinnamon Hotels & Resorts.
The 'Project Leopard' is a key sustainability initiative taken on by the brand for the conservation initiative at Cinnamon Wild Yala together with the Cinnamon Nature Trails naturalists. The steel pen concept pioneered by Dr. Ravi Samarasinghe is now adopted by Cinnamon Wild as part of their responsibility in safeguarding this illusive cat, while restoring and up-lifting the livelihoods of the cattle farmers in the surrounding areas.
"Today's visitor is seeking more than just a tourist excursion. They want to engage with the community and be a part of responsible tourism. It is our duty to provide such experiences for these travellers and we are ready to move a step further to help the community," said Chitral Jayatilake, Head of Eco Tourism, Cinnamon Nature Trails.
The 'Project Leopard' adopted by Cinnamon Wild has distributed 33 steel pens already among the cattle farming community with the guidance of senior biologist Manori Gunawardane. With further funds raised by John Keells Foundation, 75 pens will be donated by the end of 2013.
The Bollywood stars would witness this project first hand when they proceed to take their filming to Cinnamon Wild Yala.