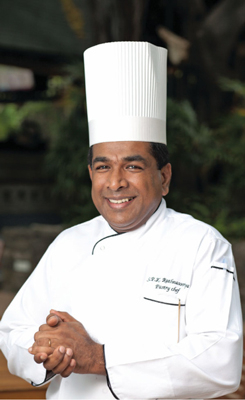 The Cinnamon Grand recruited another chef to its ranks: Chef Susantha Rathnasuriya, who brings with him a quarter century of experience and knowledge gathered from all around the world.
Having joined the hotel in June this year, Chef Susantha is excited about all the possibilities the Cinnamon Grand offers and is determined to make good things even better, so guests can look forward to more gastronomic delights from the grandest hotel in town.
Having stepped into the field in 1987, 25 years down the line, Chef has worked in many countries and across continents, from America to Abu Dhabi and even on a luxury cruise-liner. His resume contains top-end hotels and clubs such as the Kuwait Hilton, The British Club in Abu Dhabi and the Grand Hyatt, Dubai. He was also the opening Pastry Chef of the Mövenpick chain in the Middle East.
Chef returned to Sri Lanka last year, with the intention of giving back to his country by sharing his expertise. "When you're young, it's the time to learn and earn, which is what I did. However, as a Sri Lankan, my heart is here and I want to give what I've learned to my country. I want to use my experience to make the Cinnamon Grand's offerings even better," says Chef Susantha.
Chef Susantha is setting his sights on making the hotel's cakes and pastries the best in the country and the hotel has already introduced new items since his arrival, such as the Signature Ribbon Cake, which he guarantees is the best and softest ribbon cake in the island.