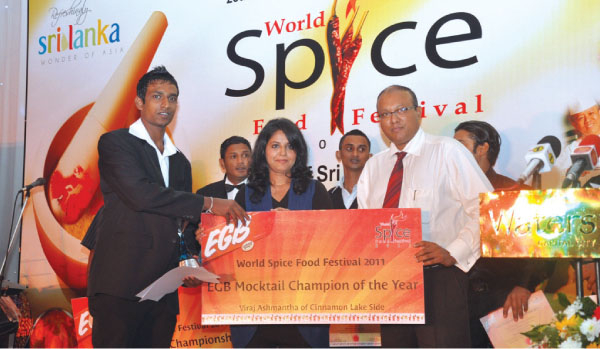 Amongst Cinnamon Lakeside Colombo's many victories at the World Spice Food Festival 2011, was bartender Viraj Ashmantha's EGB Mocktail Champion of the Year Award. The 22 year old bartender impressed the judges with his mocktail 'Electric Ginger Breeze' at a competition held by Ceylon Cold Stores. Participants were required to create a mocktail using their product Elephant Ginger Beer or EGB.
Sixteen bartenders from participating hotels competed at the EGB Mocktail Championship. The panel of judges consisting of reputed personalities from the Hospitality and Food and Beverage arenas, included Allan Palmer, Eraj Abeywardene and Hiran Serasinghe.
The Electric Ginger Breeze is created with a mix of Nelli cordial, fresh mint leaves, lime wedges and green apple cubes topped with EGB.
Aside from the EGB Mocktail Champion Award, Cinnamon Lakeside Colombo was also victorious in the Chicken Curry Challenge and the Best Theme Stall Competition at the Hawker Street leg of the World Spice Food Festival 2011.