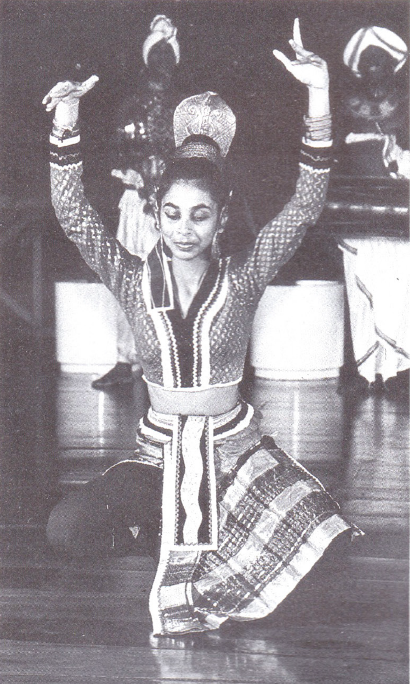 A full year has now past since EXPLORE SRI IANKA augmented Colombo's increasingly exciting nightlife by introducing its unique entertainment programme, COLOMBO BY NIGHT, in its ongoing efforts to promote Colombo as one of the most enticing tourist destinations in the region. For only US$ 12.95 per person, COLOMBO BY NIGHT offers you a complete evening of enjoyment. As dusk descends and the glowing hues of sunset give way to the gentle velvet of evening, COLOMBO BY NIGHT lets you discover the night-time charms of the city.
The evening's programme begins with your being picked up at your hotel and transported by luxury coach into a world you might not otherwise ever experience.
In the comfortable setting of a five-star hotel, the Ramada Renaissance, you start off by viewing a narrated slide presentation introducing you to the many attractions which await you in Sri Lanka – such as its ancient cities and monuments, the unspolit beaches, handicrafts, flora and fauna . . … Immediately following this is a cultural show performed by the renowned Sri Lanka National Dance Troupe. This talented group of artistes will present you with a variety of Sri I.ankan dance styles ranging from the traditional to the innovative: Kandyan hill­ country and southern lowland dances, masked and healing dances, ritual fire dances, and folk dances of the sowing and harvesting festivals. The throbbing beat of the famed Sri I.ankan Drums provides a captivating accompaniment to these multifaceted performances.
Then comes a feast for the palate as well as for the eye – you can indulge yourself in a sumptuous buffet of tantalizing dishes. For those who want to experience the new sensations of local cuisine, you can choose from such Sri Lankan specialities as curries, sambols, and string-hoppers. Also served is a beautifully presented array of soups, salads, cold-cuts, and tropical desserts, with coffee or tea to bring your meal to just the right close.
After a tour around the town, what awaits you next on the programme is a step into the new and exciting disco world of Colombo. After one of the most popular discotheques in town, the Colombo 2000 at the Meridien, you can let yourself go to the rhythm and beat of today's latest sounds on a pulsating, strobe-lit floor. Then cool off with a complimentary drink while you sit back and watch the action as others take their tum on the dance floor.
The final highlight of the evening is a visit to a well-established casino: the Palm Beach Club. At the casino you will receive free play coupons worth Rs. 500/- (equivalent to US$ 20), giving you the opportunity to flirt with lady Luck on the house amid elegant surroundings with complimentary refresh­ments. Helpful hostesses, attentive stewardesses, and skilled croupiers and dealers will cater to you, and you can play on into the night at games like Roulette, Blackjack, and Baccarat Who knows? – you might walk away with a fortune! The finishing touch to this memorable night on the town is being dropped off individually in a chauffeur­ driven car at your hotel whenever you wish to end your evening of enjoyment. COLOMBO BY NIGITT is conducted nightly, except Mondays, Thursdays and Poya Days. You can make your reservations at the travel agent's counter in your hotel, at the "Colombo by Night" counter in the Ramada Lobby or by calling EXPLORE SRI IANKA at 574930/574931 and then look forward to an evening of pleasure under the sparkling stars of COLOMBO BY NIGHT.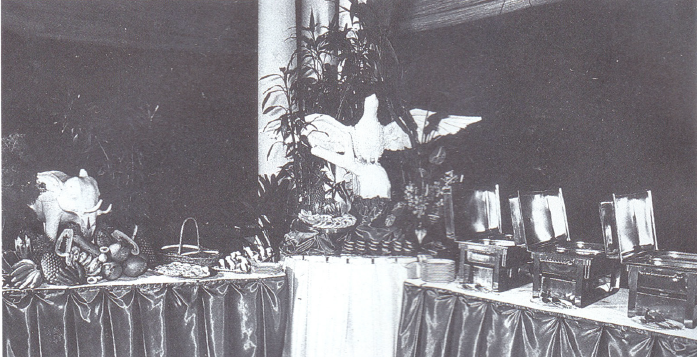 The lavish buffet laid out for 'Colombo by Night" guests and a dancer from the cultural show. Thilak Seneviratne