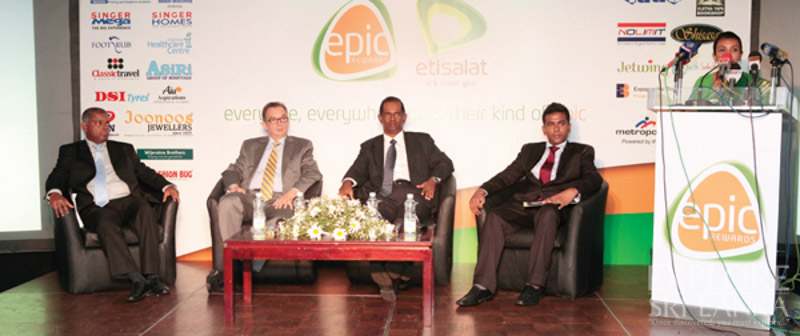 Etisalat Lanka launched its newest Loyalty Programme – 'Epic Rewards', aimed at rewarding the loyalty of both its post and prepaid voice and data customers.
Epic Rewards is an 'opt-in' scheme which gives customers the choice of joining and selecting their preferred categories from Fashion & Entertainment, Travel & Leisure, Sports & Health, Dining & Household, and Business & Learning.
"We came out with this new proposition, Epic Rewards, based on our research. The points Epic Rewards members earn are called 'Rings', which the customers will start earning by continuing their commitment to Etisalat. Customers can simply dial 7272 or #7272# from their mobile or contact any Etisalat flagship store island wide to join this Programme.The more Rings you earn, the more 'Rewards' you get. These 'Rings' can be redeemed through offers at partner merchants and at selected events," said Shameel Bishri, Senior Manager, Prepaid and Customer Loyalty – Etisalat.
Priyanga Hapugalle, CEO, Direct Solutions – Etisalat, reaffirmed that this Loyalty Programme does cater to almost every profile of a Etisalat subscriber and it is certainly not limited to a privileged group which is a notable feature of this scheme.