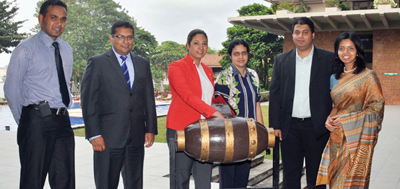 Yoosuf Sulaiman was the first winner to be selected from the 'Dine and Fly' promotion organised by Cinnamon Lakeside Colombo in association with Air Arabia. Beginning July 2011, for a limited period, diners at the hotel's restaurants Royal Thai, Long Feng and The Dining Room are invited to enter the weekly draw where a lucky winner will receive a ticket to Sharjah on Air Arabia.
The host from every table will be eligible to enter the 'Dine and Fly' draw, which will be held every Friday at the hotel to determine the winner. When settling the bill, they are requested to hand a business card to restaurant staff or may request a form to fill in their details for submission.
"We are delighted to collaborate with Air Arabia and offer our diners the chance to visit this "Cultural Capital of the Arab World," says Neroy Marso, General Manager of Cinnamon Lakeside Colombo. Sharjah was given this title by UNESCO in recognition of its commitment and dedication in preserving its rich heritage and culture.