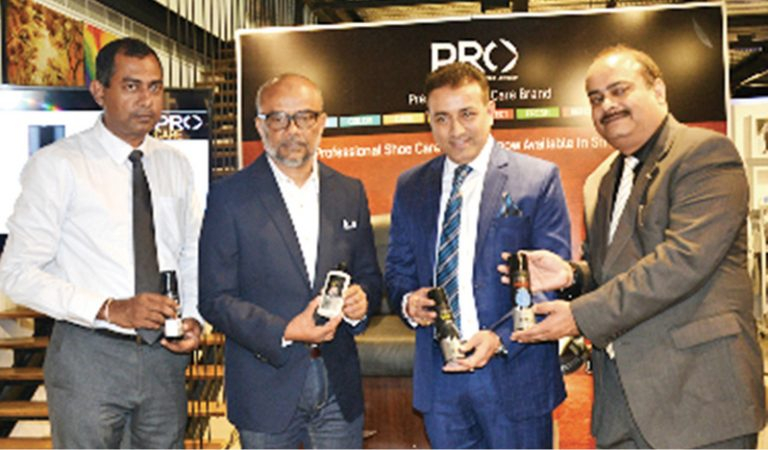 Hameedia introduced the PRO Shoe Care range throughout its retail network in Sri Lanka.
Developed by manufacturer and exporter M V Shoe Care, PRO Shoe Care offers the customers easy-to-use, high quality cleaning as well as shine solutions. Commenting on the PRO Show Care range, Fouzul Hameed, Managing Director, Hameedia said, "We are delighted to offer our valued customers access to this new, world class range of shoe care products. The PRO range of shoe care products is extremely easy to use and will enable you to keep your leather footwear in excellent condition."
Also commenting on the product introduction to the Sri Lankan market, Ketan Vyas, Founder and Managing Director, M V Shoe Care said, "This range of new products and services will change the way consumers take care of their shoes and leather goods. Hameedia has the reputation, has the reach and commitment that is needed to deliver in this market. Together we will make a very positive impact on the provision of high quality shoe and leather care products in Sri Lanka."
Lokesh Chopra, Head of Sales, M V Shoe Care stated, "Sri Lanka is an important market for us as it is experiencing fast growth in the retail sector. We are happy to partner with the Hameedia Group. We believe that the addition of the PRO products and accessories to the Hameedia portfolio, will provide discerning Sri Lankan consumers with the care and cleaning solutions that they need to ensure the durability of their footwear."
PRO Shoe Care solutions provide eight focused categories for shoe as well as leather care called Clean, Care, Shine Colour, Renew, Fresh, Protect and Accessories. Hameedia Grooming Specialists will advise the customer on the product most suited to them.