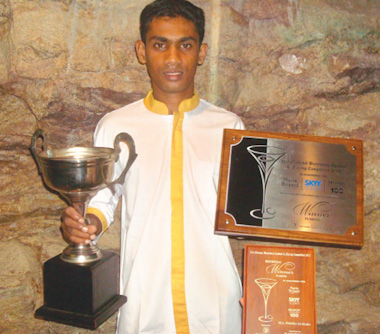 A group of upcoming bartenders from Heritance Kandalama and Heritance Ahungalla Hotels walked away with wins at the National Bar Tenders' Cocktails and Flair Competition 2012, organised by the Ceylon Hotel School Graduates' Association.
Indika Kumara Marasinghe, Praveen Sampath Fernando, Gihan Sadanayake, Iresh Tharanga Mayadunna, Sithara Wickramasinghe and Roshan Madushanka Malagammana participated in the competition.
"What is noteworthy is that all of them joined us in trainee positions from remote parts of the country. They worked hard, moved up the ranks and never passed up an opportunity to learn new skills, which is very encouraging for us," said Malin Hapugoda, Managing Director, Aitken Spence Hotels.
Indika Kumara Marasinghe, from Heritance Kandalama was adjudged the winner of the National Marie Brizard and Skyy Vodka Bar Tenders' flaring competition. As the winner of the flaring competition, Indika will now represent Sri Lanka at the prestigious South Asian Regional Bartenders Competition which will take place in Singapore.
Praveen Sampath Fernando, secured the First Runner Up award in the Classic Cocktail category, representing Heritance Ahungalla.
Praveen Fernando calls his signature cocktail "Green Republic" which includes a dose of Skyy vodka, creme de menthe green, Monin apple syrup, banana liqueur, peach and passion.