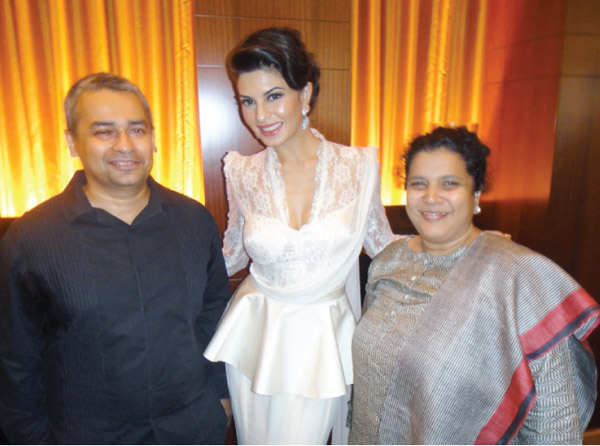 Bollywood actress Jacqueline Fernandez appeared on the red carpet in Singapore recently wearing diamond earrings from Colombo Jewellery Stores at the World Premiere of the Hindi comedy "Housefull 2". The Sri Lankan born Bollywood star sported a white dress that was inspired by the Kandyan Saree. She was present amongst the star-studded cast of the Hindi comedy that included Bollywood stars like Akshay Kumar, John Abraham, Ritesh Deshmukh and Asin to name a few.
CEO of Colombo Jewellery Stores, Akram Cassim, and his wife Sharmila Cassim met with the actress backstage as she prepared to make a grand entrance at the gala premiere ceremony.
Jacqueline also wore a pair of Pyramid Diamond Earrings from Colombo Jewellery Stores to the press conference held to promote the movie with her fellow actors and actresses. Wearing a red outfit and hair neatly swooped up in a bun, the actress made sure the central focus was on the sparkles on her ears.
[nggallery id=278]