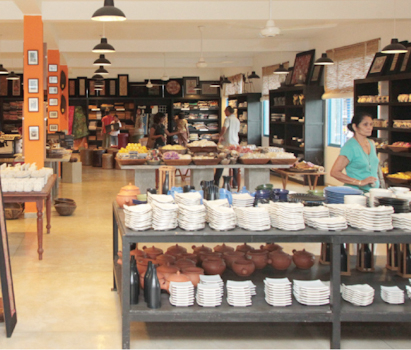 The designer home store, Kalaya, launched its new collection recently. The spacious two storey store has introduced brand new items such as different types of teas, a wide range of books, coconut shell jewellery and children's items.
The range of teas include green tea, black tea, organic tea and flavoured teas all by Vintage Tea. Some of the flavours are peach, cinnamon, lemon and orange. There are also infusions of various flavours all made with the freshest of ingredients.
On Kalaya's bookshelf are volumes by contemporary Sri Lankan writers, Nobel and Booker prize winners, and renown international authors. There are also coffee table books on architecture and design. Alongside these are children's books too.
Kalaya is also contributing to a village empowerment project by acquiring coconut shell jewellery manufactured by local women in Kiriella, Ratnapura. These beautiful creations are displayed at Kalaya.
Children's items like games, toys and bed linens have also been added to the diverse collection of household items at Kalaya. The store has also expanded its existing product range.