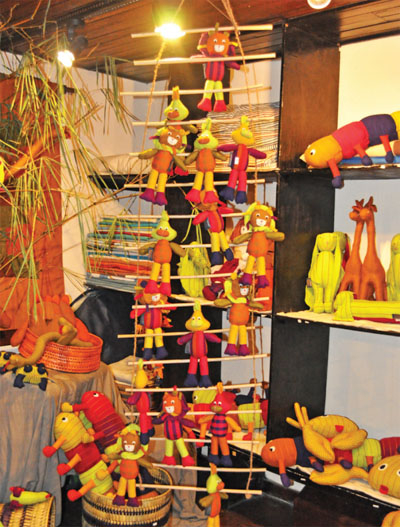 It is a treasure trove of fabrics and trinkets. The vibrant hues of handloom materials, the sheen of copper ornaments, quirky coconut-shell curios, intricately woven reed mats and bags and brilliant paintings that adorn the walls beckon you to enter, explore and discover the world of Kandygs.
Words Ayesha Inoon Photographs Indika De Silva
On a quiet street that is hidden amidst the hustle and bustle of the city is an oasis where this variety of knick-knacks awaits your leisurely perusal. Kandygs, Thirasara Island, one of the four main Kandygs stores in the city, showcases those products which have made Kandygs synonymous with Sri Lankan culture and heritage.
From the large clay pots that are scattered at the entrance to the trinkets clustered on the shelves, every item in the store has been sourced from local manufacturers, often in rural Sri Lanka. Reed and jute woven into mats and bags, coconut shells fashioned into a variety of ornaments from spoons to candle-holders, charming stationery and paintings and photographs depicting local scenery are but a few of the souvenirs one can purchase at Kandygs.
In the spacious rooms upstairs are rolls of fabrics, the brightly coloured swathes that will transform into the décor in homes, hotels and businesses, not only in Sri Lanka but around the globe. Apart from the fabrics that Kandygs exports, many expatriates bring the measurements of their houses overseas so that they can take a piece of Sri Lanka back with them in the form of Kandygs fabrics to adorn their homes. While choosing from the range of fabrics is an option, there is also an array of readymade linens – bedspreads, tablecloths and table mats, cushion covers, wall hangings, curtains and towels to choose from.
Aside from the traditional cotton handloom fabrics, Kandygs has recently introduced bamboo yarn in an initiative in collaboration with the Government, to revive the handloom industry in the country. Through this project villagers in Divulapitiya were trained in weaving and design by Kandygs at a centre set up by the Government. The weavers were provided with the required equipment and yarn, with Kandygs doing the quality control and purchasing back the final products – the soft shawls, clothes and cuddly soft toys that ornament their store.
The appeal of bamboo fabrics lies not only in its extreme softness, breathability and gentle sheen, but also in its environmental sustainability, explains Anuradha Yahampath, Design Director of Kandygs, adding that bamboo can be grown near river banks, preventing soil erosion and is a plant that easily regenerates.
The entire concept of bamboo fabric in Sri Lanka will not only revive the threatened handloom industry 
in the country but also provide entrepreneurship opportunities to the rural community thus reinforcing the Kandygs philosophy of improving the lives of people and being an icon for Sri Lankan products.
If you would prefer to adorn your body instead of your surroundings, there is a variety of clothes made of the handloom fabric, both cotton and bamboo – elegant kurtis, blouses, shirts and sarongs. 
There is also a range of saris, unique in their soft shades, bringing sophistication and style to their wearers. A quaint collection of local books and eclectic Sri Lankan tea adds to the total experience of the store, giving you even more in terms of choice of what to buy.
Having launched in 1971 by the Yahampath family, with a mere ten machines, Kandygs today is a 
thriving enterprise that employs over a 100 workers at their main factory in Maharagama, and 
that has made its mark in revolutionising the textile industry of the country. They continue to bring vibrant colour into the homes and lives of people with their exceptional products and heartfelt philosophies.
28/11, De Fonseka Place, 
Colombo 5
Tel: (+94 11) 255 4858
Email: kandygs@sltnet.lk
[nggallery id=657]