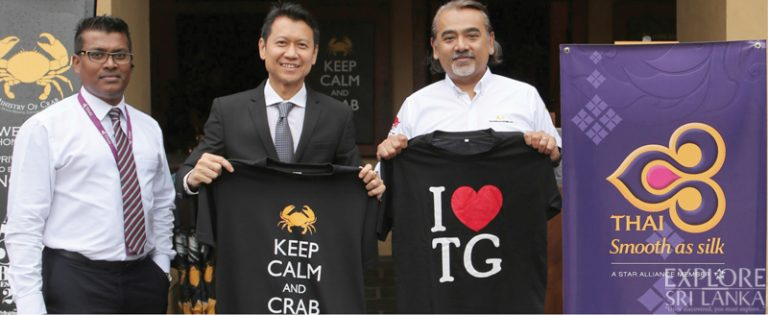 Marking their final guest appearance, Chef Dharshan Munidasa and his team flew to Bangkok with the event's airline partner, Thai airways. The three-day pop was held at The Banyan Tree catering to up to 200 diners. Providing a glimpse of the authentic Ministry of Crab experience ahead of its restaurant opening in Bangkok, the patrons of the award-wining restaurant were served a four-course dinner. The specially curated menu included the creamy Crab Liver Pâté; the rich and savoury Baked Crab as well as the flavoursome Garlic Chili Prawn and the fiery Pepper Crab.
Celebrating Sri Lanka's mud crabs and freshwater prawns, Ministry of Crab with their streak of international pop ups has spread the heritage of the island's culinary culture across the global culinary landscape.
"It is an honour to be Ministry of Crab's airline partner for their final pop up in Bangkok", mentioned Narintorn Sukkaseam, General Manager Thai Airways – Sri Lanka & The Maldives. He further added, "Both Bangkok and Colombo are known for their unique styles of cuisine and we are happy to bridge diverse culinary experiences between the two countries through this very partnership".
"This is our final pop up in Bangkok before we open doors of our very own Ministry of Crab in the city", remarked Dharshan Munidasa, "This is our way of welcoming guests to get a glimpse of what will be in store for them soon at our Bangkok outpost in Sukhumvit. I would also like to extend our gratitude to our airline partner, Thai Airways for all their support extended during this pop-up".