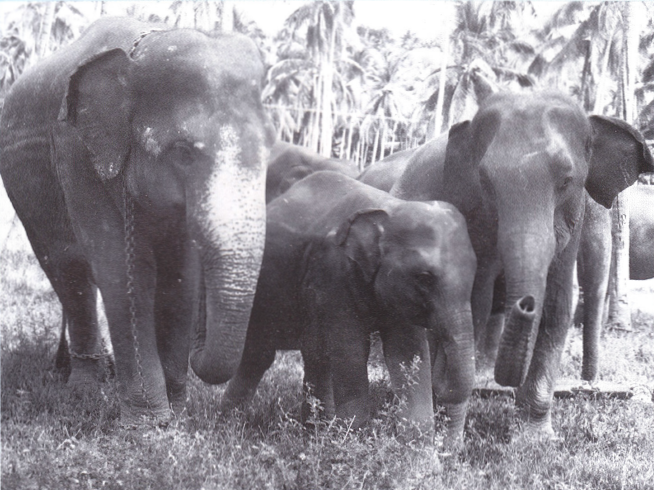 Pinnawela is a quiet little village in typical countryside lying by the side of the river Maha Oya which never runs dry. It is well known the world over as the home of Sri Lanka's first and unique elephant orphanage established in 1975 and now fast developing into the only Captive Elephant Breeding Centre in the country.
It all began almost 30 years ago with one wild 26 inch furry 140 lb baby barely strong enough to raise. It was found wounded and abandoned in the jungle. Since then there were successes and failures but the Zoo took up the challenge playing foster mother to several such babies brought from the wilds of Sri Lanka.
The first elephant elephant orphanage was set up at Wilpattu in 1972 with nine babies. Therefter it was shifting to Bentota and finally moved to spacious surroundings at Pinnawela in 1975. In 1977 the orphanage was transferred to the care of the National Zoological Gardens.
Very young elephants, many of them still suckling are rescued from the perils of civilization. Some had fallen into water holes or into gem pits dug in the jungles. Some of their parents have been killed by farmers defending their crops. In a few cases poachers have killed the tuskers for their ivory. Deforestation has been the elephants primary enemy.
These babies orphaned or abandoned by their herds in Sri Lanka's jungles have been saved from probable death and are now safe and comfortable in their new found home. Each new comer is taken care of well and efficiently.
An average youngster brought in is under three feet high and weighs about 150 pounds. Five mahouts provide round the clock care and the younger babies receive special attention.
Each day at 6.00 a.m. at this 25 acre coconut plantation a small band of trained mahouts or keepers head for the shed where the world's largest single collection of baby elephants impatiently await their feeding. They head for the kitchen where gallons of milk await them. Five litres of milk form the mid day meal of each baby. Milk rice mixed with bees honey are also added to their diet every day.
These babies are all agog with excitement at the sight of bottles of milk brought by the mahouts. They suck the milk with the soothers in their mouths. After they finish their quota they usually ask for more.
Elephants at Pinnawela enjoy the fresh cool water of Maha Oya twice a day at 10 a.m. and again at 2 p.m. Visitors are treated to a rare spectacle of several baby elephants playing and frolicking in the water. After the daily bath they resume their feeding on the soft grass growing under the coconut trees.
Fresh foliage brought from the surrounding villages is also supplied in addition to the grass in the plantation. After their succulent supper the elephants are taken to their sheds and by 10 p.m. everyone lies down for a well-earned rest.
Every elephant has a name. Vijaya is a 16 year old male adult while Mathali is a tall dignified female who is well known as a self-appointed foster mother who escorts the little ones across the public highway to their usual bathing place. Bindu and Sukumali are two favourite and mischievous babies in the herd. Among the other young elephants are Komali, Neela, Jandura, Noni and Kadira. They are also used for research and observation.
According to the curator, Mathali had on several occasions rejected the advances of the romantic Vijaya her handsome young colleague at Pinnawela. She was earlier the foster mother to Vijaya.
Three years ago – in July 1984 – Kumari, which means princess, the 20 year old she elephant at the Pinnawela orphanage made history. She was the first known elephant in Sri Lanka to conceive in captivity, which is a rare phenomenon.
Kumari's mate was Vijaya a 24 year old sturdy bull elephant, also living at Pinnawela.
Kumari was captured as a baby in the jungles of Vavuniya in north Sri Lanka when it was found following a herd of wild buffaloes after it was separated from its herd. It was found in an extremely weak and emaciated condition and was subsequently brought to this orphanage.
Vijaya joined the orphanage in 1974 from the jungles of Thambuththegama near Anuradhapura. Vijaya is 7 feet tall, well built and is said to be about 20 years old.
Love among elephants is a long-drawn out affair and the friendship leads to courtship slowly growing to passion and mating.
Sukumali's father Vijaya and her mother Kumari were known to each other for a long time and their relationship were gradually but firmly. After 24 months in late 1984 a bouncing baby was horn at Pinnawela. She was named Sukumali. It was indeed a great day for elephant conservation in Sri Lanka.
Sukumali weighed 56 kilos and was 2 feet 7 inches call at birth and is the first baby elephant born in captivity in Sri Lanka. It was a historic event and marks a golden era in elephant conservation in the country.
This pregnancy was scientifically monitored by veterinarians from conception to delivery. The caretakers of the orphanage kept a day and night vigil from one month prior to delivery. Sukumali is a pet at the orphanage today. She is now about 3 1/2 years old and is given milk five times a day.
Vijaya has now found a new mate at the orphanage – the foster mother Mathali, Mathali who is about 30 years of age is expecting her young one sometime in January 1988.
Another baby elephant was born a few years later also near Kegalle. She was the second baby to be born in captivity. Her mother Lakshmi was owned by one of Sri Lanka's leading film stars, Gamini Fonseka.
Today the herd at Pinnawela is 27 with a large number of infants and juveniles. Recently a five month old infant was brought to Pinnawela from Polonnaruwa. It was found in a pit in an abandoned water tank by the Sri Lanka Army. There are also seven babies below 1 year of age and six between 1 and 5 years. Six juveniles between 5 and 15 years and seven adults above 15 years are also at Pinnawela. The breedable stock consists of two males and three females. Apart from these there are three more matured bulls.
Since 1977 some 20 rehabilitated animals have been sold or gifted to temples for religious or ceremonial use. Since 1983 the Government has decided to stop these sales and retain them for breeding purposes. These elephants who range from 2 to 14 years as one herd are suited biologically to form the nucleus of a breeding group. Besides, the natural conditions on the 25 acre coconut plantation with a perennial river flowing close by is an ideal environment for captive breeding.
The herd at Pinnawela ranging in age from a few months to mature adults is the largest single collection of Asian elephants in the world available for scientific study.
More than 40 orphans have passed through the orphanage since it began in 1975. Pinnawela elephants are not only looked after well but they are taught to perform useful skilled tasks such as carrying heavy logs, felling and clearing trees. Some are trained to participate in religious ceremonies.
Earlier these elephants were sold by auction and a trained elephant fetched about US $ 10,000. The Government has now stopped these auctions and even donations to temples. Pinnawela which costs around US$ 3,000 a month to maintain is funded by public donations, admission fees and government funds.
Most visitors to Pinnawela are those who are on their way to Kandy from Colombo as it is just 6 miles from the Kandy road. Admission rates are charged from visitors hoth adults and children. A tourist has to pay only US$ 1.25 per person for admission to the orphanage.
Visitors to Pinnawela are very fond of the little ones who enjoy themselves frolicking in the cool depths of the Maha Oya. They even touch and feel them and pat them on their backs and they in turn reach the visitor with their little trunks as if to reciprocate their love and attention.
It is also a glorious spectacle to see these little orphans wandering in the shade of the coconut plantation, feeding on short grass, or playing about enjoying the peaceful environment of Pinnawela.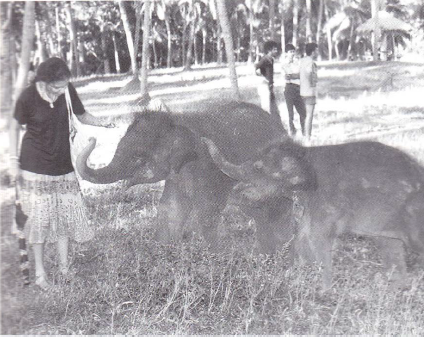 A visitor pets two of the baby elephants at Pinnawela. (Pushpakumar Matugama) Courtesy: Sunday Times.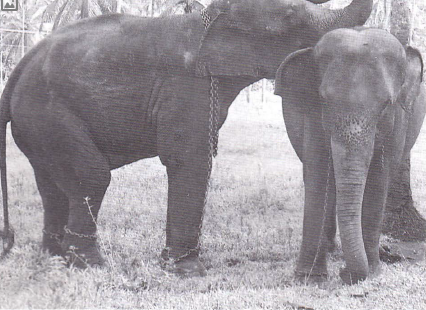 The male elephant caressing the female before mating.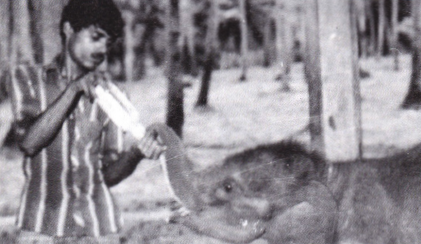 Feeding the hungry baby jumbos with a feeding bottle at the orphanage.