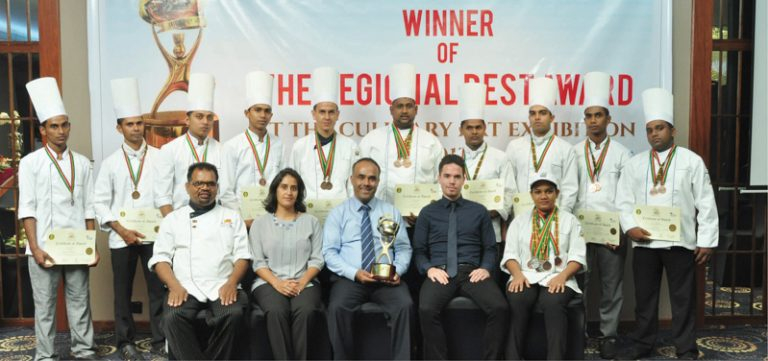 The 17th edition of the Culinary Art and Food Expo organised by the Chefs' Guild of Lanka was held this year and the team of 13 chefs of The Swiss Residence won 22 medals and the title of Best Regional Team – Hill Country.
The award-winning team was steered by Mahesh Jayamuni, Executive Chef with the guidance and support of Sarath Bandara Wijesooriya, Chairman, The Swiss Residence.
The Culinary Art and Food Expo is held every two years with the participation of chefs from around the country as well as contestants from the Chefs' Guild of the Maldives.
About 1,700 chefs from 165 hotels participated in this contest, creating menus of internationally-themed dishes including plated appetizers, five-course set dinner menu, petit fours and pralines, pastry and chocolate showpieces, hot and cold finger food for the scrutiny of an international panel of judges.
Chef D G R Madubashini, who won six Bronze medals and two Silver medals was presented with a special commemorative plaque by the Chief Minister of the Central Province in recognition of her achievement. Highlights of the Art and Food Expo were Chef Madubashini's intricate artistic showpiece of the traditional Sri Lankan Thovilaya (a ritualistic dance-based exorcism), Chef Sinhapurage's Flambé Dessert, Chef Weerasinghe's Prawn Roulade, Chef Kumara's Petit Fours/Pralines as well as Chef Ovitigala's seafood Ambulthiyal.
"We want to share this honour with our guests by inviting them to be a part of our award-winning culinary tradition," said Sarath Wijesooriya, Chairman, The Swiss Residence while asserting that there will be events planned around the team's achievement.
"We serve Gold Medal standard food every day; the medals are just a recognition by professionals, but our true judges are our guests who enjoy many of these dishes every time they dine with us," said Mahesh Jayamuni, Executive Chef, The Swiss Residence hotel.
[ngg_images source="galleries" container_ids="1383″ display_type="photocrati-nextgen_basic_thumbnails" override_thumbnail_settings="0″ thumbnail_width="100″ thumbnail_height="80″ thumbnail_crop="1″ images_per_page="20″ number_of_columns="0″ ajax_pagination="0″ show_all_in_lightbox="0″ use_imagebrowser_effect="0″ show_slideshow_link="0″ slideshow_link_text="[Show as slideshow]" order_by="sortorder" order_direction="ASC" returns="included" maximum_entity_count="500″]