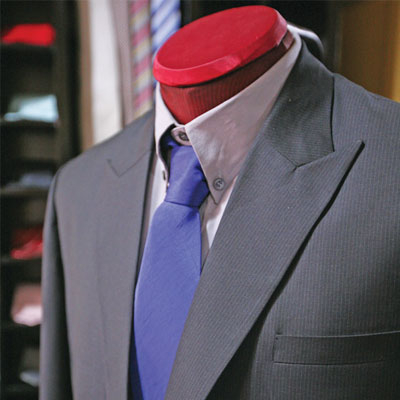 Bespoke tailoring has been EEANN's trademark characteristic throughout the last twenty years since its inception.
The term Bespoke derives from the verb 'bespeak' which denotes the specialized meaning 'to give order for it to be made'. Explaining the essential behind Bespoke tailoring Thabit Samad one of the Directors at EEANN said, "When you use this method the customer can select everything starting from the cut, colour and lining to the buttons, and the suit will be made to suit individual requirements and specification". EEANN customers can choose from an extensive range of wool fabrics from Italy, England, Thailand, Hong Kong and Singapore, while shirt material can be selected from the variety of Irish linen and Egyptian cotton available. High-quality accessories are bought from Germany.
Speaking about the process behind the impeccable, perfect-fits, Thabit Samad said, "Each suit we make is 80 percent hand-made by a single person, thus an individual tailor takes charge of each product. Further, we use the latest technology to ensure precision and accuracy".
Behind EEANN's success is its team of skilled tailors and designers, some of whom have been working with the company throughout its 20 year history. One such example is W Tomson Zoysa, fondly known as Thompson who received his initial training under William and Vincent Mei and remains one of the best master cutters in Sri Lanka with over 25 years of experience to his credit.
EEANN hopes to open another outlet in Galle road in the near future to maximise its accessibility to customers.