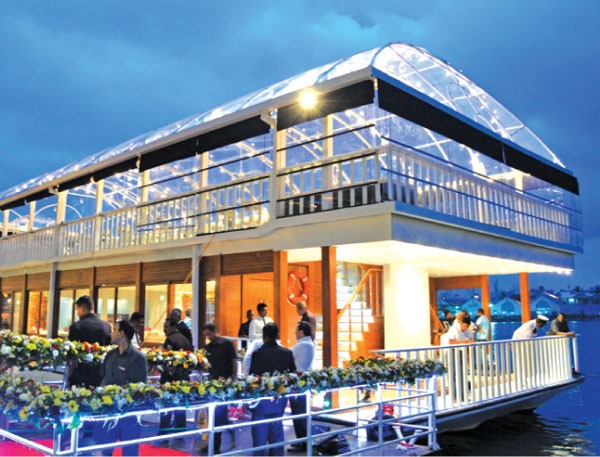 Cinnamon Lakeside extends its unique lakeside experience to a new degree, with 8° (degrees) on the Lake – a floating hotel venue for private events. The 70' by 30' vessel is Colombo's first mobile floating venue by a five star hotel. It consists of an air conditioned lower deck and an open upper deck with a clear ceiling for protection and can accommodate 100 passengers. The vessel offers a unique setting for exclusive, high profile events with its minimalistic chic interiors designed by Nayantara Fonseka of Taru fame.
"8° on the Lake was conceptualised as a means of extending the guest experience beyond the expected. Aboard 8° on the Lake, the bustling city of Colombo will be a distant memory," said Denis Gruhier, General Manager – Cinnamon Lakeside.
The venue adapts itself to suit a variety of occasions. If a large party is present, 8° on the Lake can be used as an extension to the Waterside, the hotel's garden venue, which is equipped with a pier where the vessel can dock.