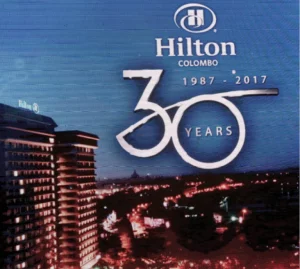 Hilton Colombo hosted an event to launch their new logo together with a commemorative first day cover for a new stamp. This was part of a series of year-long celebrations to mark their 30th anniversary and the significance of this milestone. The first day cover was officially launched in the presence of Rohana Abeyratne, Postmaster General, and D G M V Hapuarachchi, Secretary to the Ministry of Posts, Postal Services and Muslim Religious Affairs.
Also present at the event were the Chairman of Hilton Colombo and the Board of Directors together with professionals from the hotel development trade.
The new trademark was launched by Rohana Abeyratne, Postmaster General, and Krishantha Cooray, Chairman, Hotel Developers (Lanka).
A group of 19 members of Hilton Colombo who had been part of the establishment over 30 years from 1987 to 2017, were also felicitated.
Speaking at the ceremony, Manish Fernando, General Manager, Hilton Colombo, said, "As Hilton Colombo is a brand that has touched the lives of many people in this country and beyond, we will be celebrating the hotel's 30th anniversary throughout the year with many events."
He concluded his speech by commenting that these events, spanning the length of the year, will include celebratory functions as well as community projects.