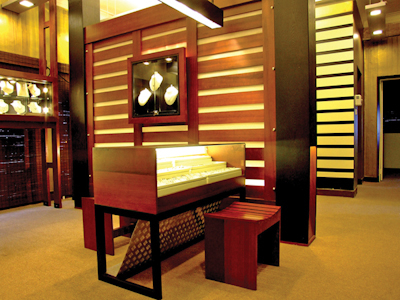 A brand new jewellery boutique is set to introduce precious gemstones and authentic gold and silver jewellery to the discerning Sri Lankan customer. Well known in Europe, "Jewel Laurel" is now housed at 64, Dharmapala Mawatha in Colombo 03. Behind this exclusive gem and jewellery enterprise is a well-experienced entrepreneurial partnership of Sri Lankan businessmen.
Every piece of jewellery produced by Jewel Laurel is guaranteed a superior quality standard. While the company is fully geared to manufacture jewellery and gemstones to suit customer specific needs, it is carried out to their utmost satisfaction. Jewel Laurel's elegant pieces of jewellery are beautifully handcrafted and are both handmade and machine-cut to exclusive styles and designs created by in-house designers. These technicians and artistes are professionally trained.
In keeping with its corporate vision, Jewel Laurel promises to strive for perfection with regards to designing and manufacturing, whilst maintaining a deep commitment to fully satisfying the needs of its clientele. "Customer satisfaction" being its prime focus, Jewel Laurel's management team together with its consultants regularly brainstorm ideas to arrive at exquisite and innovative designs from which they hope to improve and expand their existing portfolio.