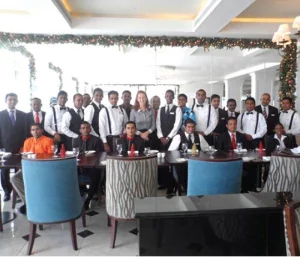 The Kingsbury readied their Food and Beverage staff to be trained by the William Angliss Institute. The Institute is the specialist centre for food, tourism, hospitality and events training, and delivers a range of industry centric courses. Dianne Whelan, the Melbourne Hospitality Trainer conducted the course at The Kingsbury, which lasted for two weeks. The objective of the training programme was to invest in the enrichment of The Kingsbury's Hospitality staff, which in turn would further elevate the service standards offered by the Hotel.
By investing in the training of its team and setting higher standards, the Hotel looks forward to serve its customers with unparalleled hospitality in the future too.
Some of the topics that were dealt with during training period are Espresso, Coffee, Tea Varieties and Styles with Product Knowledge, Cross Selling Skills, Wine, Spirits, Whisky, Liqueur Knowledge, Menu Knowledge and Effective Customer Service. Dianne Whelan worked closely with the training team to enable them to acquire hands on experience on many subjects.