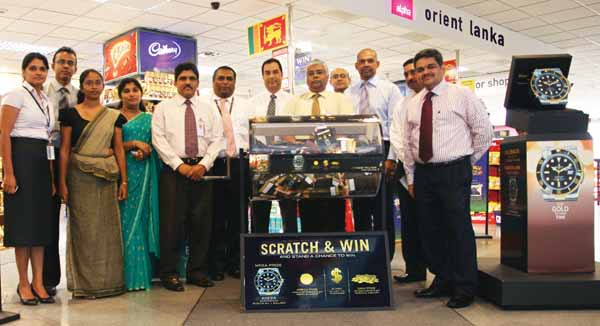 Alpha Orient Lanka concluded their Christmas and New Year mega promotion. The mega promotion coincided with the BIA Shopping Festival. On completion of the promotion, a raffle draw was held with the patronage of Kamal Ratwatte, Deputy Chairman of Airport and Aviation Services (Sri Lanka).
The grand winner of the raffle draw walked away with a Rolex Submariner watch worth more than Rupees one million. In addition to the grand prize, 160 numbers of 22 karat gold coins and 14 numbers of 22 karat gold sovereigns were given away on a daily and weekly basis. To stand a chance to win all these valuable prizes, customers had to spend US$ 60 on selected products at Alpha Orient Lanka Arrival and Departure duty free shops.
Dimantha Kinigama, CEO, Alpha Orient Lanka said that together with the BIA departure promotion launch; this promotion involved the airport and support from our brands. The intention was to communicate our competitive pricing, unique offers and our extensive product range more effectively via such "Mega" promotions. This campaign also demonstrated our ability to offer promotions that offer maximum value-addition to the returning Sri Lankan when compared to other leading airports in the region.