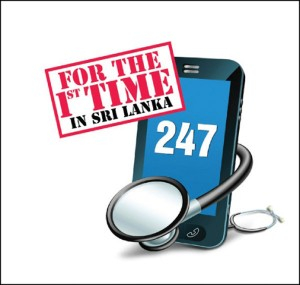 Sri Lanka Telecom Mobitel in partnership with Sri Lanka Medical Association has launched a revolutionary advisory service allowing Mobitel customers around the country to obtain initial medical advice from doctors who are members of the Sri Lanka Medical Association over the phone. Mobitel 'Doc Call' enables Mobitel customers to contact doctors through a Mobitel portal and receive immediate initial medical advice when in need. This service allows customers to contact doctors by simply dialling 247.
"The introduction of this service further affirms our brand promise 'We care. Always'." said Mobitel CEO, Lalith De Silva.
The 'Doc Call' Medical Advice service is available 24 hours, 7 days a week. After dialling 247, the customer is connected to the Mobitel Doc Call System where customers can select their preferred language for initial Medical Advice. Customers are then assisted by a call centre agent who will check the availability of a doctor and connect him or her to speak directly with a doctor.
The fixed fee for 'Doc Call' is Rs. 150/- per Medical Advice and the charge for dialling 247 is Rs. 1/- per minute plus taxes. The total fee for the call (Medical Advice fee plus 247 dialling charges) will be added to the monthly bill of post-paid customers or deducted from the credited amount for pre-paid users.