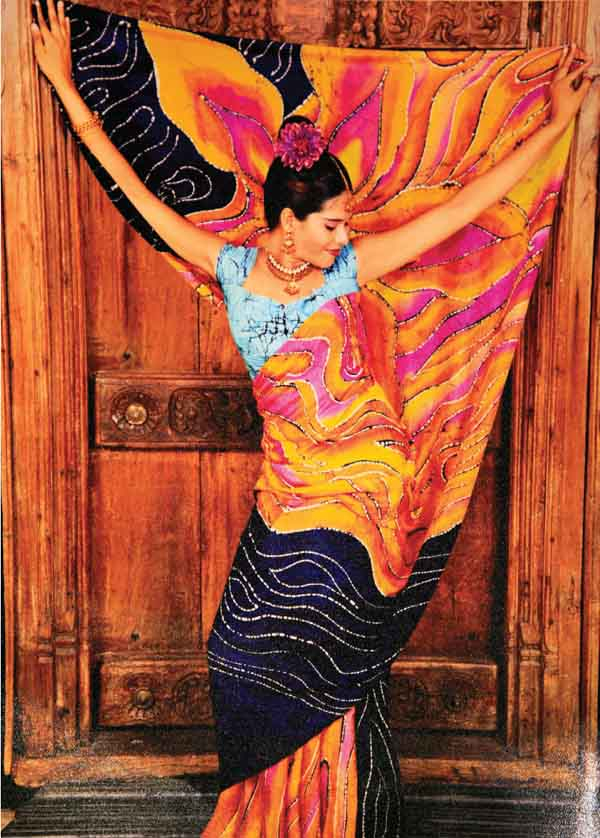 Pallu, for exclusive sarees and shalwars, has a new range of special sarees for the festive season. "We have a totally separate selection of sarees for party wear," explained A L M Akeel, Manager – Marketing. "You can't wear the heavily embroidered sarees which one usually wears to weddings. Our customers want sarees in which they can move around easily." So Pallu has brought down a special selection of sarees in light fabrics, with shimmer and shine, but minimal embroidery work.
The party sarees are found in a range of designs, colours and fabrics. Pure silk, chiffon, lace and shimmer fabric are popular choices for both day and evening wear. There are shiny, shimmery fabric sarees for special evening parties and dances, and many of the sarees in this range have elegant borders embellished with tasteful embroidery and sequins. Silk sarees with batik designs and chiffon sarees with abstract designs are very popular items within this range.
The sarees come in a vibrant array of colours to complement any skin shade. Yellow, magenta, purple, electric blue and sarees with a vibrant mix of colours are popular choices. A wide selection of Kurta tops and shawls, in special designs and colours suitable for evening wear is also available. A range of accessories, hand bags and shoes are all found at Pallu.
[nggallery id=449]