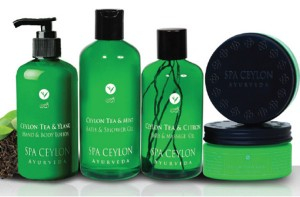 Shiwantha Dias and Shalin Balasuriya, introduced a complete range of spa formulae, bath and body care and treatment products infused with 100 percent Pure Ceylon Tea.
"The world's finest tea comes from Ceylon, and tea is proven to be rich in natural anti oxidants, chlorophylls and polyphenols, which offer potent therapeutic as well as soothing benefits when applied externally. Spa Ceylon being a producer of fine luxury Ayurveda products for the world, it was only fitting that we blend pure Ceylon Tea [organically grown], with Ayurveda herbs and oils to create this unique range of tea based products," said Shiwantha Dias, Managing Director – Spa Ceylon.
The Ceylon Tea range is infused with organically grown and processed White Tea, Green Tea and Black Ceylon Tea blended to a proprietary formulae. Manufactured according to Ayurvedic principles of health and well being, the range includes Ceylon Tea and Citron Massage and Bath Oil, Ceylon Tea and Spice Body Scrub, Ceylon Tea and Lemongrass Bath Tea and much more.
Spa Ceylon has also introduced a range of Ceylon Tea based soothing and protective spa rituals. "Our Ceylon Tea range, which capitalises on the country's most famed export, coupled with age old Ayurveda recipes and traditions, will without a doubt put Sri Lanka on the map," said Shalin Balasuriya, Marketing Director – Spa Ceylon.