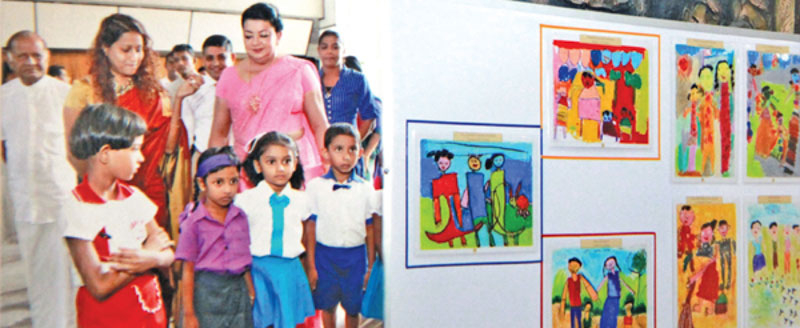 The winners of the All-Island Siddhalepa Kekulu Chldren's Art Competition received their medals and awards at a special presentation ceremony, presided by First Lady Shiranthi Rajapaksa.
The art competition was organised by the Siddhalepa Group of Companies, and drew entries from 5,000 preschools, with a total of 150,000 drawings. Of this number, 900 artworks were selected at district and provincial levels.
A panel of judges, comprising leading artists, then selected the top 100 paintings and drawings which qualified for prizes and certificates.
First Lady Shiranthi Rajapaksa commended the work of a private sector business entity in identifying the latent talents of our children and presenting them to the nation. "A generation of children endowed with positive values and attitudes is the future of our fast developing island nation," she said, speaking at the event.
J A Chathuki Amasa of the Kurunegala Janapriya Preschool in the North Western province won the first prize, Manushi Devumini of the Dambulla Nippon Preschool in the Central Province the second prize and Kasi Udampath of the Tangalle Carlton Preschool in the Southern Province won the third prize in the competition.
Dr Hettigoda also presented a special token to the First Lady, in appreciation of her work for the welfare of children and women.